Whether your truck has a heavy flatbed, is hauling your stock trailer, or cruising for an adventure, airbags will give you the comfort and safety you are looking for! Call to ask about Airlift, ReadyAir, or Rough County! Click On the photos for more information on that product!
---
---
Air Lift Company has developed dependable air spring suspension products since our inception in 1949. Our original product, a rubber air spring inserted into a car's factory coil spring, was created and patented in 1950. We've come a long way since 1949 and are proud to be a dedicated suspension specialist company.
Today, Air Lift load support products are sold worldwide and are engineered to fit over 540 vehicles. Our extensive product line offers air helper springs for trucks, RVs, SUVs, CUVs and vans, and the most technologically advanced on-board air compressor systems for on-the-go air spring control.
Air Lift leads the industry in no-drill applications – kits that simply bolt onto your vehicle's frame, speeding the installation process. Our teams work constantly to bring innovative products to you and upgrade existing products with the latest technology.
Our Air Lift Performance division customizes full air suspension replacement and compressor systems for lowered performance vehicles.
All of our efforts are spent ensuring your safety and comfort by designing, engineering and manufacturing the highest quality suspension products. We are a family owned business based in Lansing, Michigan and make your family and cargo's safety our top priority.
---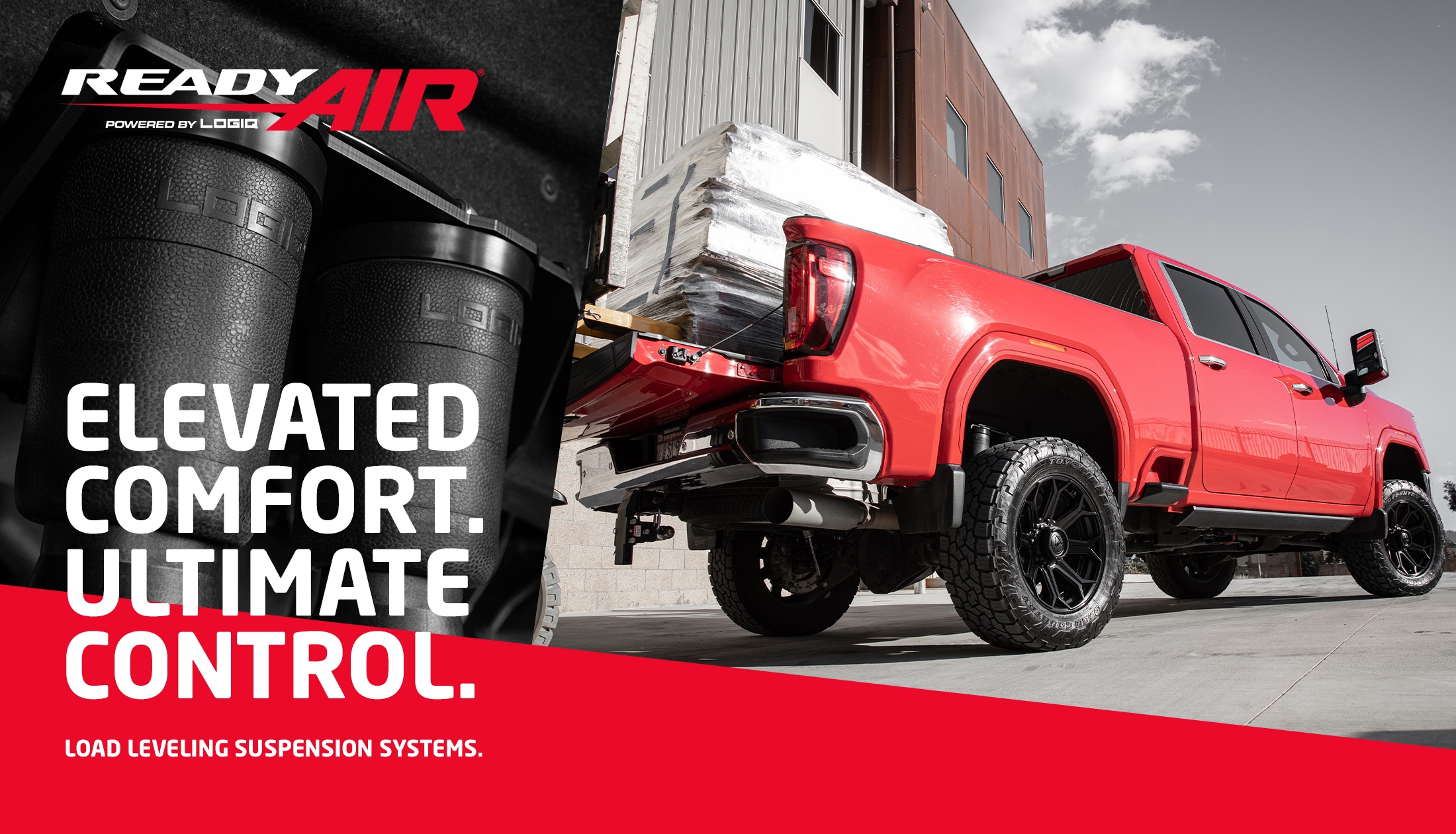 ---
ReadyLIFT is proud to introduce ReadyAIR Performance Load Leveling Suspension powered by LOGIQ. ReadyAIR products bring this 70 year old market into the 21st century with the latest LOGIQ air spring technology that provides the ultimate blend of ride quality and load stability, in a 100% factory assembled and ready to install package. Ride Frequency is the primary measurement that describes ride quality and more specifically, stiffness or softness. A "Cadillac ride" is about 1Hz while a race car is 3Hz+. The Ride Frequency for a truck is typically designed to be 1.6Hz. ReadyAIR's LOGIQ air springs maintain a ride frequency of 1.6Hz even with payload on-board.
---

---
Ideal Leveling. Is your truck your workhorse? The main attraction to the pick-up line is the accessibility to haul and tow as desired. However, due to the amount of weight in the bed, or the condition of the vehicle's rear leaf springs, this can cause the vehicle to be un-level when under load. Here at Rough Country, we created an innovative new product to ensure that these are troubles of the past. Introducing, Rough Country's Rear Air Spring Kit.
Heavy-duty Construction. Rough Country's Rear Air Spring Kit features two RC branded high-quality double convoluted airbags complemented with DOT-approved airlines. Whether you plan on towing or hauling in the not-so-distant future Rough Country's Air Spring kit is the must-have accessory to ensure that your trailer is level reducing the weight off of the tongue of your trailer. Each kit offers 1/4″ push connector fittings and all of the bracketry needed to ensure installation is lightning fast and secure! Rough Country's Air Spring kit provides up to 5,000 lbs of load support to ensure that you experience less sway and bottoming out when braking and steering!
---