Check out the pictures below and then click on the icons to go to that company's website to see what else is available.
Let's face it, Americans love towing. There's something about hooking up to a big load of prized horses, or a backhoe, or pulling an RV across a mountain pass that encompasses the freedom that we love. You've got a lot riding on your hitch and those relatively small pieces of engineered steel play the leading role in keeping your truck and your trailer connected. The hitch matters to your safety and the safety of our roads.
That is why we treat the manufacture of your trailer hitch with the respect it deserves. For one, we insist on American-made steel, like the sheet steel we buy from U.S. Steel out of Gary, IN or the round bar that becomes the gooseneck ball made at a mill in Norfolk, NE. In a product where the strength and flexibility of the steel can mean life or death, we trust the U.S. steel mills with their finely controlled processes and specifications we can trust.
A hitch is only as good as the welds holding it together. We insist on making those welds under our roof. And the hard-working, skilled Americans that make the welds do so according to the ASTM Welding Standard (American Society for Testing and Materials). We wouldn't have it any other way.
It might not matter whether your t-shirt, TV and tent stakes are made in America, but your trailer hitch? You might give it a thought.

Today, Air Lift load support products are sold worldwide and are engineered to fit over 540 vehicles. Our extensive product line offers air helper springs for trucks, RVs, SUVs, CUVs and vans, and the most technologically advanced on-board air compressor systems for on-the-go air spring control.

Draw-Tite is the premier brand of custom trailer hitches. Established in 1946, Draw-Tite was born out of a passion for outstanding performance and has come to represent one of the best custom-fit vehicle products available today. Each hitch designed must pass rigorous tests to become Tested Tough™. With increased tongue weight capacity and integration of Hitch Match™, an all-new accessory pairing guide, Draw-Tite is the brand of choice for years of dependable service.
Draw-Tite provides top quality in every hitch and receiver made. Solid all-welded construction is used for maximum strength and safety. Backed by a nationwide limited lifetime warranty, the custom-built hitches are manufactured to vehicle-specific weight specifications and model year to ensure perfect fit and towing performance. Computer-aided design and fatigue stress testing are done to ensure a strong design that will withstand road abuse within specified capacities. All Draw-Tite hitches meet and exceed V-5 and SAE J684 standards and are inspected for quality and workmanship.
Aside from its technical merits, Draw-Tite is known by millions of NASCAR fans as one of the official sponsors of Team BKR – Brad Keselowski Racing. Draw-Tite has raced around the NASCAR Camping World Truck Series tracks hundreds of times on the #19 BKR truck. America's Favorite Hitch has gained even more notoriety through this exciting sponsorship.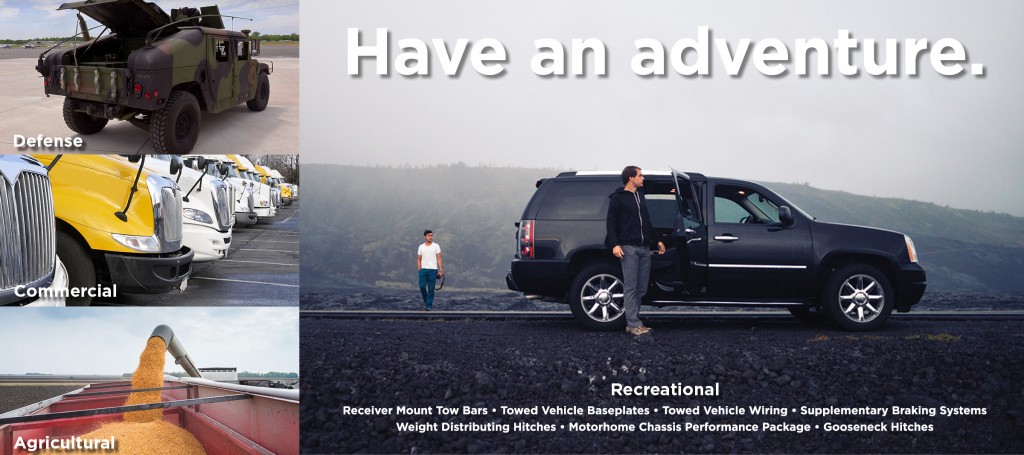 Blue Ox is known internationally for its quality towing products, from tow bars and baseplates, to steering control systems, supplementary brakes, carriers, weight distributing and gooseneck hitches and everything in between. With a product and accessory line as diverse as their customer base, Blue Ox has everything to meet your recreational or commercial needs.
FIND US ON AMAZON